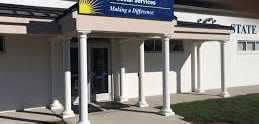 Provides: SNAP, Cash assistance, Husky Health Insurance, etc.
Services provided in the office - If you do not have an appointment for in-person interview, the following services are available at the reception window:  pick-up of applications/forms; filling out applications/forms on-site; general information; questions & answers; and picking up of mail, EBT cards and income verification.

Dropping off Documents - Documents and forms will not be taken by the Eligibility Services Worker at the window.  Outside drop-boxes are available, or use the pre-paid business reply envelope to mail your documents directly to the DSS Scanning Center at PO Box 1320, Manchester, CT 06045.

Please allow DSS 10 days to review and process any documents submitted before contacting us.